RCBC, DTI team up to empower entrepreneurs in Phl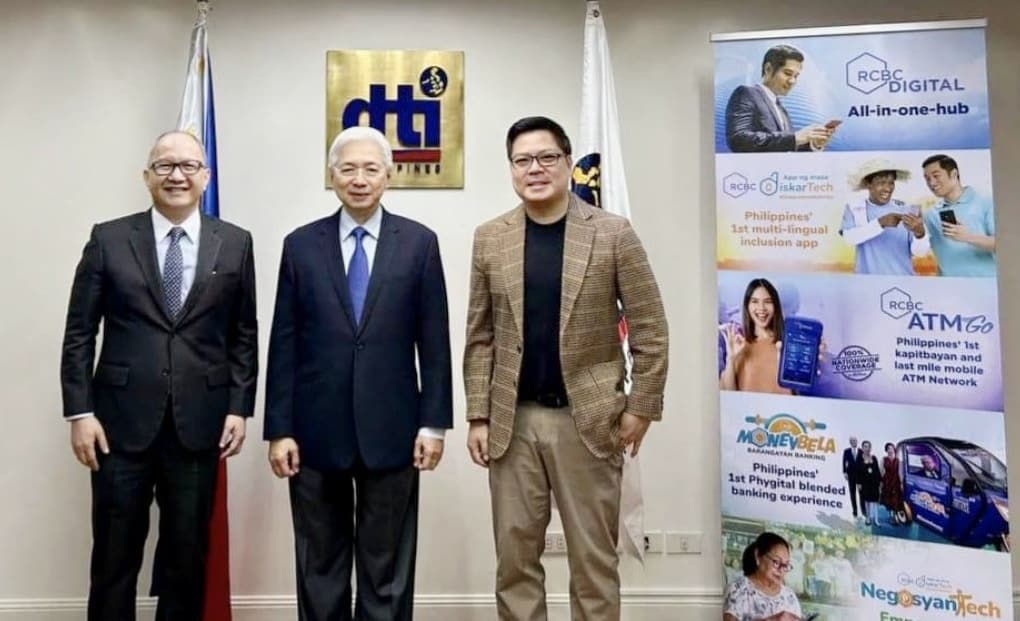 By: The Phil Biznews
Source: thephilbiznews
The Philippines' multi-awarded digital challenger bank Rizal Commercial Banking Corporation's President and CEO Eugene S. Acevedo and Executive Vice President and Chief Innovation and Inclusion Officer Lito Villanueva paid a courtesy visit to DTI Secretary Alfredo Pascual to strengthen its partnership that assisted hundreds of thousand mSMEs in the past years and further discussed the shared vision of the bank and the Philippine government of elevating enterprises in the country.
"It goes back to the DNA of the company, which is nation-building. Any initiative related to that, we keep investing," said RCBC Chief Executive Officer Eugene S. Acevedo.
RCBC partnered with DTI in the past few years which yielded groundbreaking results. These include assistance for more than 262,105 mSMEs from 2019 to 2022, the majority or approximately close to 160,000 were women and half were millennials and Gen Z entrepreneurs. More than 70% of them were in the provinces.
Senior citizens, the majority of whom live in the provinces, also benefited from RCBC's collaboration with DTI by receiving free insurance. Insured elderly availed of assistance for fire accidents and medical emergencies through the award-winning super financial application, RCBC DiskarTech. The application is the country's first financial inclusion application in Taglish and Cebuano.
Sec. Pascual lauded RCBC's efforts and affirmed the bank's philosophy of centring their innovations on nation-building and improvement of quality of life. "Know your customer. With the ability to know where they are, it's easier for us to market," said the DTI Secretary.
He reaffirmed the position of digital banks in the country's post-pandemic development by linking their value to the growth of mSMEs. "There are more than a million mSMes, How can we bring the mSMes to the formal financial system? By digitalizing," said Pascual.
Fintech visionary and award-winning banker Lito Villanueva agreed with Pascual. "That is [RCBC's] objective. How to reach mSMEs, and help them capture more consumers and expand their businesses. We are here to help DTI," said Villanueva.
Pascual stands firm on the Philippine government's objective of rebuilding the economy after the deadly pandemic. "We can achieve growth by giving access to markets, technology, finance, negosyo centers, regional inclusive centers," said Pascual, affirming RCBC's strategy of uplifting local businesses.
RCBC is now the country's most awarded and undisputed challenger bank with over 70 digital regional and global accolades during the pandemic period. Among them include being the Philippines' Best Bank for Digital for three consecutive years (2020-2022) by the Asiamoney, Best Financial Inclusion App by the Asian Banker, and YouTube's The Challenger award for its out-of-the-box and certified viral digital ad campaigns which generated a combined 17 million views.