Groups 'wish' PBBM to tackle Open Access Act in SONA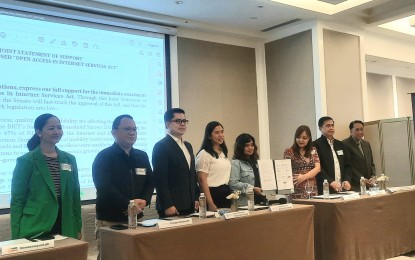 In a press conference in Makati City Wednesday, these groups said they urged Marcos to certify the OAIS Act urgent and make it a priority legislation of his administration.
During the event, the groups signed a joint statement calling on the Congress to immediately pass the OAIS Act.
Signatories include executives from Philippine Chamber of Commerce and Industry (PCCI), Philippine Exporters Confederation, Inc. (PHILEXPORT), Employers Confederation of the Philippines (ECOP), National ICT Confederation of the Philippines (NICP), Fintech Alliance.PH, Philippine Cable Television Association, Inc. (PCTA), Internet Society – Philippines Chapter, Foundation for Media Alternatives (FMA), Democracy.net.ph, and Better Internet PH.
Better Internet PH lead advocate Mary Grace Mirandilla-Santos said making the OAIS Act a priority bill aligns with the Chief Executive's pronouncement in his first SONA to digitalize the country.
"We need to digitalize the Philippines; this is actually the marching order of President Bongbong Marcos during his first six months in office," Mirandilla-Santos said. "The President has also made it very clear that e-government or digitalizing the government, as well as universal connectivity are his priorities. So without a better internet, we cannot achieve these goals."
The bill was already approved on third reading in the House of Representatives and referred it to Senate Science and Technology (S&T) Committee last Jan. 23.
Last June 7, the Senate S&T Committee initiated hearings on digital connectivity bills that involve five bills in Open Access in Internet Services and four bills in Open Access in Data Transmission.
Better Internet PH, along with the other groups, is requesting the Senate S&T Committee to deliberate on and approve the Open Access bills.
They also request the National Economic and Development Authority (NEDA) to include Open Access as a priority legislation of the Legislative-Executive Development Advisory Council (LEDAC).
They also called on other groups to issue statements of support to the OAIS bill and to participate in consultations and public hearings on Open Access bills.
"Many barangays had no access to broadband infrastructure pre-pandemic. While there are several factors that can affect access in the Philippines, we see that the availability of broadband infrastructure is at the heart of the digital divide," Mirandilla-Santos said.
She said the OAIS Act will allow ease of licensing and permitting for infrastructures related to improving internet services in the country. (PNA)