Digital inclusion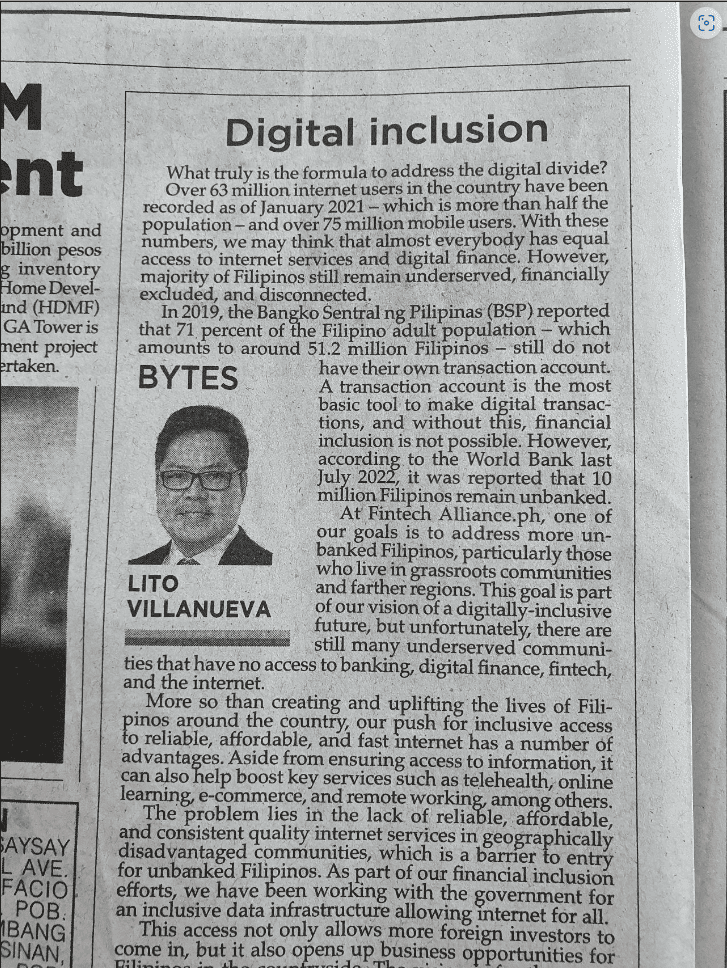 by: Lito Villanueva (The Philippine Star)
source: https://www.philstar.com/business/2022/08/12/2202020/digital-inclusion/amp/
What truly is the formula to address the digital divide?
Over 63 million internet users in the country have been recorded as of January 2021 – which is more than half the population – and over 75 million mobile users. With these numbers, we may think that almost everybody has equal access to internet services and digital finance. However, majority of Filipinos still remain underserved, financially excluded, and disconnected.
In 2019, the Bangko Sentral ng Pilipinas (BSP) reported that 71 percent of the Filipino adult population – which amounts to around 51.2 million Filipinos – still do not have their own transaction account. A transaction account is the most basic tool to make digital transactions, and without this, financial inclusion is not possible. However, according to the World Bank last July 2022, it was reported that 10 million Filipinos remain unbanked.
At Fintech Alliance.ph, one of our goals is to address more unbanked Filipinos, particularly those who live in grassroots communities and farther regions. This goal is part of our vision of a digitally-inclusive future, but unfortunately, there are still many underserved communities that have no access to banking, digital finance, fintech, and the internet.
More so than creating and uplifting the lives of Filipinos around the country, our push for inclusive access to reliable, affordable, and fast internet has a number of advantages. Aside from ensuring access to information, it can also help boost key services such as telehealth, online learning, e-commerce, and remote working, among others.
The problem lies in the lack of reliable, affordable, and consistent quality internet services in geographically disadvantaged communities, which is a barrier to entry for unbanked Filipinos. As part of our financial inclusion efforts, we have been working with the government for an inclusive data infrastructure allowing internet for all.
This access not only allows more foreign investors to come in, but it also opens up business opportunities for Filipinos in the countryside. The vision is for the previously "disconnected" island barangays to have access to affordable, reliable, and fast internet data.
The Open Access in Internet Services Act is a good place to start as a regulatory framework for better internet service. This bill aims to streamline the current registration process for internet service providers and make it simpler and more efficient, while even fast-tracking internet network rollout in disconnected areas. This will allow us to welcome more industry players into the game, building a competitive yet conducive market that is supported by the government. With this solid support and lack of barriers, it will be easier to innovate as well. The faster we innovate, the faster we can see a growth of e-commerce businesses and micro, small, and medium enterprises (MSMEs), which make up 99.51 percent of the Philippines. Increasing our employment rate is also a priority of the new administration.
This seamlessly connects to the vision of President Marcos under his Build Better More program of being a "digital first" economy. The immediate deployment of Elon Musk's Starlink in the countryside is a great first step. In the post-SONA briefing by the government's economic team, bolstering digital infrastructure was highlighted. The Department of Information and Communications Technology (DICT) was ordered to digitalize the Philippines. To address the underserved communities where most unbanked Filipinos reside in, the Rural Wired Connectivity Development Act is crucial in expanding wired internet services to rural areas. The bill will help incentivize industry players to deploy networks and operate easily in unserved communities.
The bill can quicken the BSP's financial inclusion efforts alongside the private industry players. Easier and wider internet access spurs participation in the digital banking sector, as being wired to the internet results in being wired into digital finance.
The ripple effects of the proposed bills are multiple. NEDA ordered to issue additional 30 million physical and 20 million digital National IDs. By end of next year, the government will have issued 92 million PhilSys national IDs. This digitization of information is a major factor in building a digital financial future. The national ID makes it convenient for millions of unbanked and underserved Filipinos to be able to open transaction accounts seamlessly and finally be part of the formal financial system.
Better internet also involves better quality, speed, and truth-in-advertising. The Better Internet Act requires service providers to comply with minimum internet connection speeds based on their area of operation and to deliver at least 80 percent of their advertised speed to consumers.
The Better Internet Act helps protect consumers from being taken advantage of and exploited, thus, increasing the trust of consumers in digital finance and digital players. With this protective legislation, consumers in rural areas will have no hesitation in buying into the digital world. They will feel even more safe and secure to do so!
Lastly, the Critical Information Infrastructure Protection Act helps protect the infrastructure that provides vital services to the public. This will require entities that own, operate, and maintain the computer systems and ICT networks of critical infrastructure to comply with minimum information security standards, report and respond to security incidents, and designate personnel with information security credentials.
This bill is vital to combating terrorism, money laundering, and criminal activity done through digital platforms, especially since cybersecurity firm Kaspersky reported that the Philippines was the most hit country by phishing attempts in Southeast Asia. Cyberattacks put at risk the reputation of banks and fintechs.
FinTech Alliance PH supports the government in combatting these digital crimes. With this bill, an extra layer of protection will be added for our consumers. We cannot compromise the privacy, safety, and trust of our valued consumers.
Digital finance will continue to grow in the Philippines, especially with the help of continued partnerships and innovative collaborations among industry players. Since our founding in 2017, we have been working hand-in-hand with the government to promote inclusive digital finance.
Key is having a comprehensive multi-sectoral national strategy and a coordination framework.
Simply put, Internet for all enables universal access to digital finance.
Lito Villanueva is the Philippines' award-winning thought leader on digital transformation and inclusive digital finance.  He is the executive vice president and chief innovation and inclusion officer of RCBC. Concurrently, he is the chief digital transformation advisor for the Yuchengo Group of Companies. He is also the founding chairman of Fintech Alliance.ph, the Philippines' largest organization of startups and unicorns that collectively generates over 90 percent of digital transactions volume in the country today. He was recently elected global chairman of the South Africa-based Alliance of Digital Finance Associations. Among his 100 accolades include being named among the Top 100 Fintech Leaders in Asia, and Top 100 Filipinos on LinkedIn, Mr. Fintech of the Philippines by BizNews Asia, and Chief Innovation Officer of the Year by The Banker.